---
Sally...
I'm so happy 😊 🥳 Finally my package arrived in Mexico... THANK YOU SO MUCH‼️
---
I got my order a few days ago, didn't realize it would need a USB power source but i quickly found a small battery bank and the proper cord the next day. It works and looks wonderful, I think my kids are going to love it and get so many laughs from waking up that fox! Thank you for all your work making this and I'll upload a video sometime around the end of March after his birthday so you can see them laughing and playing with it. 
Take care
James
---
I got him yesterday and I love him - thank you so much. I wish you the very best that life has to offer. Thanks again for a wonderful experience and cute toy. You are amazing. 
---
Package arrived today safe and sound. Again thank you so much, it's perfect! My brother will be so happy and that will have definitely been worth the wait. Keep up the good work.  Merry Christmas and a happy new year to you and yours! Thanks again!
Jess :-)
---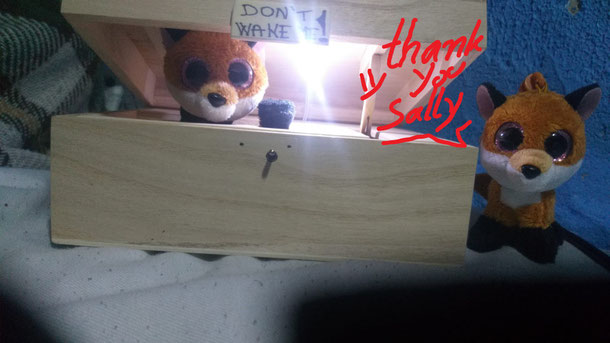 ---
Hello,
box has arrived. Item is great!
A big "Thank You"!!!
Greetings from Germany
---
I just received my order! OMG IM SO EXCITED!!! I can't wait to purchase a cord to see it work!! My son is going to absolutely LOVE it!!! Thank you so much!!! 
Is there anywhere I could leave an awesome review? Or tag you somewhere on social media? I'd love to spread the word about your amazing creations and just how incredibly adorable these boxes are! 
---
Hi Sally
I received my package today and the little tiger party box works great!  You are an amazing artist! I really like the tiger animal you found for me.   I can't wait to show the family....
Thank you 
Mike
---
I picked it up. I opened the package and played with it. I bought it for my niece and she's going to get a kick out of it. It seem's to be working great. Good job. Thank's.
---
Hi Sally
the box arrived safely and it is super great! 🙂 Thank you and merry christmas.
regards
H.
---
Good afternoon!:
Forgot to inform you that about 10 days ago I received the box.
My girlfriend is really happy with her birthday present :-)
Best regards!!
J.
---
Just wanted to say I got the box for my other half as she loves cats and I thought it'd be a cute thing to do, It's just arrived today and the workmanship is absolutely beautiful, I couldn't be happier. Thank you very much.
---
Hello.  I just wanted to let you know I received your hard work in the mail today and it is perfect.  Thank you very much.  It has been very much loved already.  And I hope everything there is going ok with the current virus nonsense all over the place.  I will definately be on touch again at some point soon for another one know the future soon before the holidays....possible 3 more....but I will let you know as far as which ones when it comes to the time I can get wash one.  Until then please take care and again, thank you very very much!  By the way
..still can't get enough of the video you made with this box.  ❤
Best wishes
K.
---
 Sally! My nephew received his fox yesterday and he could not be more happy! I have never seen him smile so much! Thank you so much for being so understanding throughout this process and for making my nephew so happy. It has been an absolute pleasure working with you! I really cannot thank you enough.
---
Thank you for the toy! My niece is VERY HAPPY! You are wonderful!
---
Hi Sally71!
You did a very fine job, everything works perfectly, and i am sure my friend will enjoy the box as well!
Thank you very very much! Best regards!
---
Hey !
I Forgot to get back to you, but the box arrived right in time for my girlfriend's birthday, and it's gorgeous ! (The box, i mean, but my girlfriend is as well). And she (My girlfriend :) loves it !
And actually my kids are jealous, so i might order some more later, maybe a DIY kit i could build with them...
So, again, i thank you very much indeed !
---
Hello, Sally,

I would like to inform you that I have thankfully received your box in perfect condition. I can't say exactly when it came, I think so about a week ago. I put her through her paces. You did a wonderful job. Thank you very much!
---
Thanks, Sally.  We received the box and the kids love it!
---
Everything is good. You are a very honest seller and I appreciate your service. Thank you very much.
---
Got it! Well worth the wait beautifully made, can't thank you enough, smiles all round 😆
---
Just received it. It truly is a admirable piece of artwork. Thanks again for doing this.
---
Hey Sally,
Thanks again for the gift, my wife loved it. Here's to all the doubters, this is the real legit thing. It is worth the money if you can wait for it as it needs to be hand made. From start to finish and ship from italy to wisconsin took a little over a month.
---
Hi Sally,
Today came your package! Thanks for all! Its beautiful! 😍 
my Aunt will so suprised about that! 
Have a nice Weekend
Sascha
---
Forgot to tell you.I've got it!! Incredible work.
Thanks and keep on.
Alejandro
---
Hi Sally,
I have recieved the box, my brother love it.
The Design is really nice :)
Thank you very much Sally 
---
Hi,
The package just arrived, thank you it's amazing. : )
Bonne journée : )
Marie-Christine
---
So the package was received on time and in perfect condition. The only problem is that my parents didn't tell me that it came until days later. They have a lot going on so please forgive my late response. 
There is one serious problem with the box. The problem is that I can't get anyone who touches it to put it down! Seriously, it has already brought so many smiles and so much laughter to every person I show it to. The only thing that's more amazing than the box itself is the story Of what I went through to get it and how absolutely amazing and understanding you were throughout the whole experience. I am a true fan of your work, so keep me updated on anything else that you create, but I'm also a huge fan of you. You've made a real friend here Sally. You single handedly turned a negative situation into a positive one for a lot of different people to enjoy. I wish I could give you a big hug. Thank you for everything. Stay in touch.
Love,
 Michael
---
Hi Sally,
The boxes arrived today and they are great. Thank you very much! Please put the additional cats (just the plush animals, no boxes) that I paid for aside, such that they would be available if I wanted a few more boxes say in half a year or up to a year from now.
Thanks,
Stephan
---
I returned from visiting my son in Florida yesterday and the package had arrived!!!!   Everything arriived safely and they look incredible!  Unfortunately, I don't have the proper cable to actually operate the boxes, but I ordered some and they should be here next week.
Thank you.  The casket is amazing and I can't wait to see it in operation.
Jeff
---
Thank you .
Just so you know, I saw your fox box about 2 years ago... but it was a bit pricy for me.
Recently, I dream about it, and since I'm in a ruff patch it will make me smile.
But you sold me when I saw your DIY video... all the effort and the time that you put in it, will be worth it. And the fact that your'e welling to let other do their own, is very thoughtful.
So thank you 😊
Bonne journée : )
Marie-Christine
---
Sally,
I received my "Don't Touch Me" box the other day and am very impressed at the quality of the construction and effort you put into making it. I watched your YouTube video on the construction and don't know if I would have the skill or patience to construct something like this. My family loves it, at first they were afraid to touch because they thought they would be shocked but love the antics of the little panda bear. Thanks again!
Spence
---
Hi Sally –
Just to let you know I finally picked it up on Friday from the office (I've been away for two weeks).  It's brilliant, just like the video, and out little one LOVES it!!!  Don't worry, it's being looked after well.

Thanks again 😊 😊


Bill
---
Hello Sally, 
Yes, the box will be in good hand. 
Thank you for your great work. 
---
Hello Sally
I have found the correct cable and it is all working, thanks :)
It has a spot on my desk in the office in Brussels ;)
Bye
Sven
---
Dear Sally,
Just wanted to say thanks for this awesome work. We received the order and we have so much fun with it. We love it!
Thank you again and I wish you all the best for this year :)
Amazing work!
Sarah
---
Your Parcel have just arrived!!!
I am so happy , Thank you very much!
Have a wonderfull xmas Time 
---
Great!!
I've already bought one of the boxes. They're amazing! Thanks for everything, I'll write as soon as it arrives.
Regards
Javier
---
Ciao Sally,
the parcel has arrived yesterday and the box is in great condition.
I'm sure, my better half will like it very much.
Best regards, Soren.
---
Hi Sally,
the box arrived today… it's great and I love how you implemented the light! Even my wife (who normally scolds me when I buy things that are not really needed…) was laughing about it.
Thanks again, and cheers!
Dirk
---
Hello Sally,
I 've just received the box today.
Thanks for the quick transaction, and for the box quality. I think, that I will make two happy boy at the end of the year.
Bye,
Loig
---
Hi,
I received the package yesterday. The box looks good and it works nicely. This will be a nice Christmas present. Thanks.
Best regards,
Knut
---